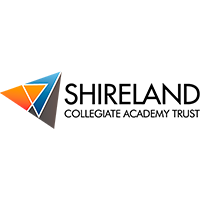 We are excited that Wallbrook Primary Academy joined Shireland Collegiate Academy Trust in January 2021.
This is a very exciting time for the school and means that we stay as a close community whilst benefiting from the wealth of experience and opportunities that working with the other schools in the Trust will bring.
Wallbrook is the Trust's seventh academy. The Trust was founded back in 2011 by Shireland Collegiate Academy and since then they have gone from strength to strength. They are now an established Multi-Academy Trust (MAT) within the Black Country, known for their commitment to outstanding education and using innovative curriculum design and use of technology to make sure children are well-placed for a happy and successful life.
Becoming part of the Trust will mean some changes for everyone at Wallbrook, but our aim is to make sure that these will have a positive effect on our pupils' education.  
We hope our staff and pupils will have started to see some of the positive changes that we have begun to make around the site. These will support our children's learning experiences and include:
Progressing with decorating the school hall and updating classroom layouts.

Putting up signs around the school with the new logo and colours.

Providing staff with new laptops which means they can access teaching materials from anywhere in school and work with pupils through the new Portals that are being set up.

Installing new WiFi at the school to help with online learning.

Improving the security of the site and introduced a new signing in/out system

Recruiting new members for the Wallbrook Standards and Performance Committee (SPC), which acts like the school's Governing Body.
We have more exciting developments coming up in the summer term:
We plan to hold our first Wallbrook Family Forum. This is our families' opportunity to give us feedback on the school and how they are finding working with the Trust so far. We really encourage everyone to get involved.

We are starting training with staff to introduce our E3L curriculum and running workshops for families on the changes.

We hope to give families the opportunity to sign up to our family support programme – Passport to Success – and for children to take part in Trust collaboration activities.